As we talk to our growing manufacturing customers, we hear that visibility is a major problem. In order to scale, business owners need to hire more people, establish more specialized organizational structures, and invest in more technologies. All of these things are important to scale, but they come at a cost: visibility into the entire business. Just as investments in people, processes, and technology are essential for growth, the complexity they introduce can paradoxically create barriers that can hinder it.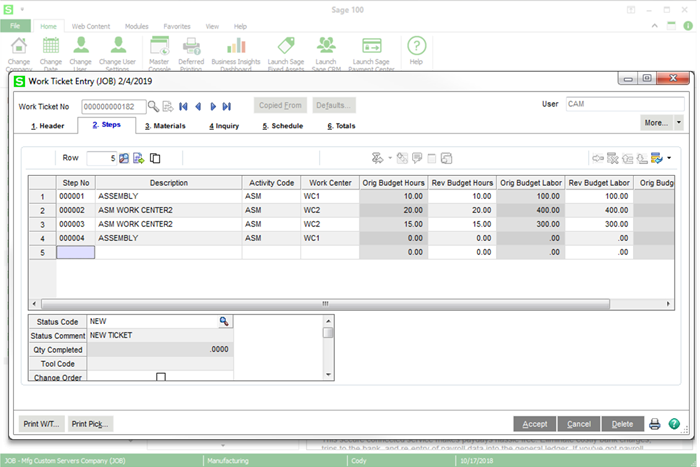 Sage Production Management gives discrete make to stock manufacturers and fabricators the tools they need to achieve visibility into their entire production process. By centralizing the production process in a way that is tightly integrated with Sage 100cloud, assemblers, manufacturers, and fabricators always know their costs, the status of items, and the material quantities required to meet demand.
With Sage Production Management, we are helping Sage 100 and Sage 100cloud customers to solve core business challenges in three areas: accuracy, visibility, and efficiency.
Accuracy
With Sage Production Management, businesses can track costs beyond a simple bill of materials. Support for tracking labor and other job-related attributes (like overhead, direct AP costs, and status) means that manufacturers can get a complete picture of what it costs to produce an item. Because they always have current and accurate cost reporting, manufacturers can track costs relative to budget in real time and make adjustments to inventory, materials, and production processes with increased agility.
Visibility
It is important for manufacturers to know where their items are in the manufacturing process. But it is as important for manufacturing customers to know how their orders are progressing. Thanks to real time access to the status of every item, manufacturers can improve customer satisfaction by setting accurate delivery expectations.
Efficiency
Without Sage Production Management, complex inventory management may involve exporting sales order data, manipulating that data in spreadsheets, and manually creating purchase orders to ensure that materials are at levels necessary to meet production demand. Sage Production Management combines sales order data already available in Sage 100cloud with manufacturing process data to alert users when ordering is needed. The real time integrated inventory control system with built-in controls also increases data integrity by minimizing errors.
Powered by Scanco, Sage Production Management replaces our legacy Work Order module. It brings all of the features of Work Order to our modern business object framework while also adding nearly 70 additional features. More than this, it will serve as the foundation for a connected ecosystem of manufacturing extensions including support for shop floor users, material requirements planning, enhanced scheduling, advanced product configuration, and more. With this, we are excited not just about the release of Sage Production Management, but about our future investment in small- to medium-size manufacturing businesses in the US.
Want to learn more about Sage Production Management? Click HERE to request more information or call us at 1-787-523-8885.